Rainbow Caticorn Cat Gift Wrap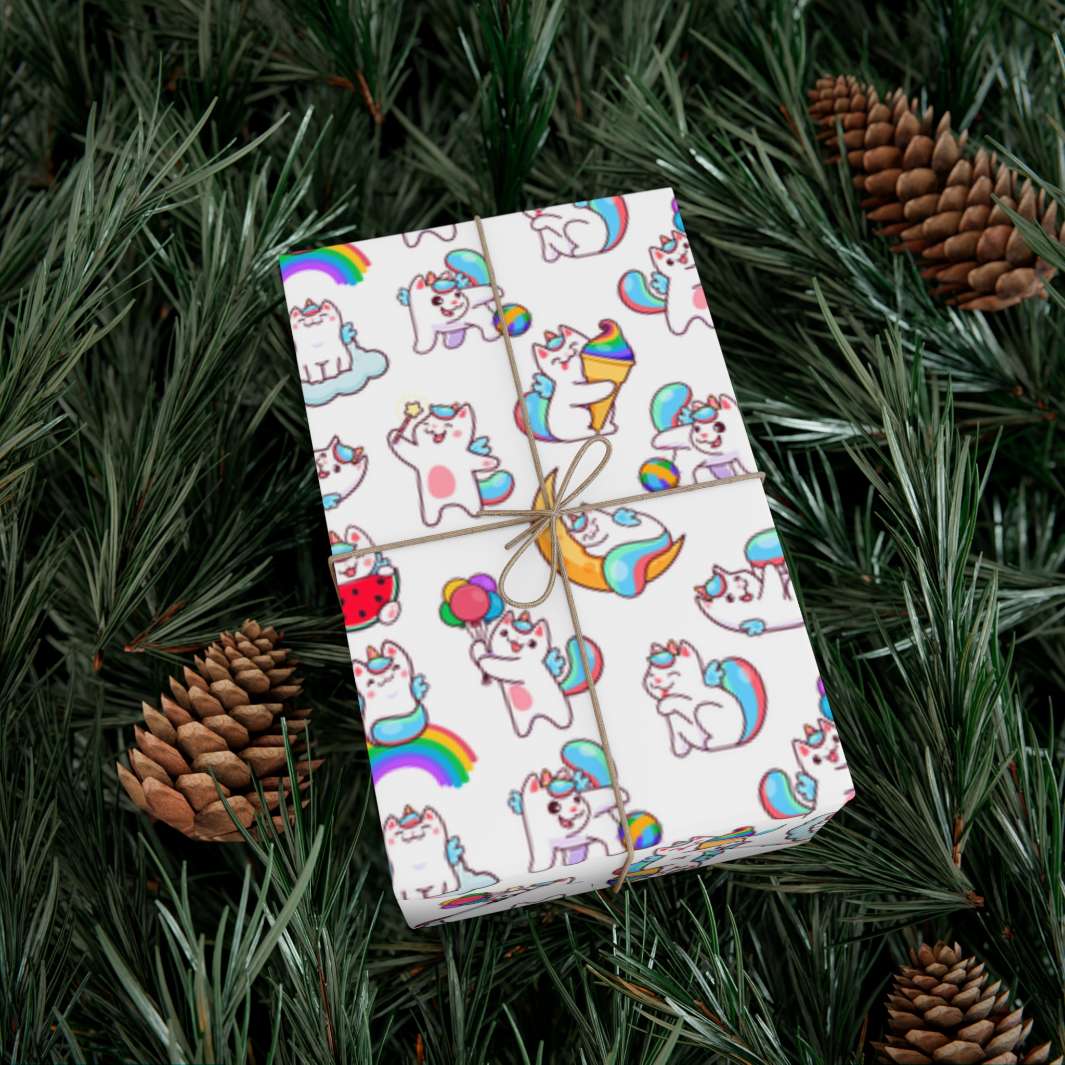 Rainbow Caticorn Cat Gift Wrap
Birthday Magic: A Unicorn Cat's Gift Wrap Adventure!
Hey there, gift-givers and cat lovers! Get ready to add a sprinkle of magic to your presents with our Rainbow Caticorn Cat Gift Wrap! 

Imagine- a gleaming white background that makes your gift shine like never before. And wait for it...there's a charming cartoon cat all dressed up as a majestic unicorn, prancing around with glorious rainbows and floating balloons! Can you imagine a more whimsical sight to behold?

We're not kitten around when we say that our Rainbow Caticorn Cat Gift Wrap will transform any ordinary present into something truly extraordinary. It's like a little slice of happiness wrapped around your loved one's gift, a burst of color and charm that is sure to bring a smile to their face.

Whether it's a birthday, holiday, or just a random act of kindness, this gift wrap is the purrfect way to show someone you care. They'll be enchanted from the moment they lay eyes on the playful Caticorn, with its adorable whiskers and shining horn. It's a friendly reminder that life should be filled with joy, laughter, and of course, magical feline creatures!

And let's not forget the magic of rainbows! They symbolize hope, dreams, and endless possibilities. By decorating your gift with our Rainbow Caticorn Cat Gift Wrap, you're gifting not just a physical item, but a sentiment of positivity, wonder, and the belief that dreams really can come true. Who wouldn't want that?

We understand that presentation is key, and our gift wrap is no exception. Crafted with care and attention to detail, our Rainbow Caticorn Cat Gift Wrap is made from high-quality materials that won't tear easily. It's the gift wrap that keeps on giving, spreading joy with every use. Plus, the vibrant colors will make any wrapped gift stand out and demand attention!

So, why settle for ordinary gift wrap when you can choose something truly extraordinary? Our Rainbow Caticorn Cat Gift Wrap is the cat's meow when it comes to adding a touch of magic and charm to your presents. It's time to unleash your inner imagination and give the gift of pure delight.

Order your Rainbow Caticorn Cat Gift Wrap today and let the magic unfold! Trust us, it'll leave your loved ones smiling, and who knows, maybe even believing in the power of Caticorns! 
Details:
Two paper finishes (Matte, Satin)
Three sizes to choose from
Printed using GreenGuard UL Certified inks
Custom made especially for you in the USA
By creating each item individually upon order, we minimize waste and promote sustainable choices. Thank you for embracing conscious shopping!